In today's digital world, it's virtually impossible to grow your real estate business without a solid real estate social media marketing strategy. With social media, real estate agents can create a digital footprint and make lasting connections with their target audience on a personal level.
According to the National Association of REALTORS® Research Group September 2021 Real Estate in a Digital Age report, more than 50 percent of REALTORS® reported using social media because they felt they were expected to have a presence there. Also, nearly 50 percent use social media platforms to build and maintain client relationships and/or to promote real estate listings.
Other business reasons that real estate agents use social media platforms include finding new prospects, helping network with other real estate professionals, and helping stay current on real estate news and trends.
Social media can have an immense impact on individual real estate agents. It's possible to use social media platforms to generate business organically.
While every agent should leverage this type of self-marketing, you can only be successful at it if you do it correctly. The main point of being on social media platforms is to keep your followers interested in your posts. Just ensure you keep them engaged so that they eagerly await the next piece of information you share.
Discussed below are 5 simple social media marketing ideas for real estate agents.
#1: Focus on the Top Social Media Platforms for Real Estate
Dozens of social media platforms are currently in operation. However, only a few have the user base and support features to be effective channels for real estate marketing.
According to the NAR Real Estate in a Digital Age report, Facebook, Instagram, and LinkedIn are the top three platforms. YouTube and Twitter are at a distant fourth and fifth. However, all these five platforms are perfect for a real estate-focused marketing strategy.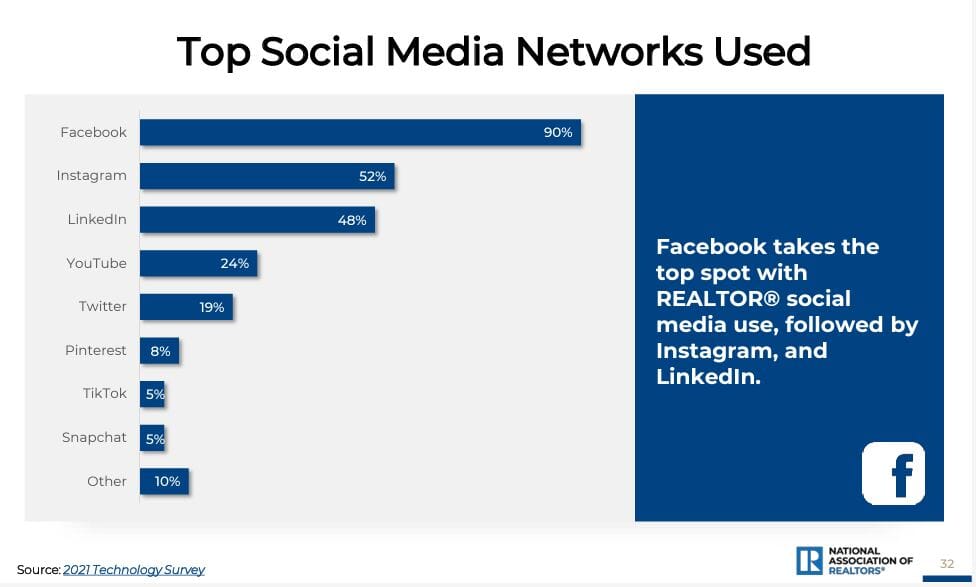 If anything, social media is simply not one size fits all. Hence, before you start posting, consider which platforms would work best for your business model. Not every platform will work for everyone.
Don't spread yourself thin by posting on several social media platforms. Pick two or three. Even one is alright. But being active on many platforms is not a smart move at all. And it isn't feasible time-wise.
Also, it can take several months of experimenting to figure out the top platforms that can yield the best results.
The go-to platforms that most experts suggest are Facebook and Instagram. In real estate social media marketing, Facebook is decidedly the bread and butter platform. And Instagram, with 1 billion-plus active users, is a safe bet in this niche, as well. Ultimately, the social media platforms you decide to focus on will depend on your target audience and marketing goals. Invest your time in building a lasting presence only on the ones that are the most promising for your business
#2: Highlight Your Listings via Live Videos
According to the National Association of Realtors (NAR), property listings with videos get over 400 percent more inquiries than those without.
Videos are powerful, especially in the real estate industry. When done professionally, videos can quickly take your business to the next level.
A picture is worth a thousand words. But a video is worth at least 10 times that.
Want hard evidence? Check out these statistics:
• 73 percent of homeowners would prefer to do business with a realtor who uses videos for listing.
• 70 percent of the buyers find video tours immensely useful as they save precious time.
From providing property tours and expert tips to conducting Q&A sessions and sharing client testimonials, videos can help real estate agents get better results in selling both residential and commercial properties.
Creating a listing video of a property before it goes on the market is vital. It can help build anticipation and boost demand for the property. Videos of listings will also get more engagement than static images.
A video lets a prospective buyer have a quick overview of the property. Plus, you can showcase the prime elements and amenities of the property to help a prospect move to the next stage in the buying process.
Creating a listing video is simple. All you need to do is use an InVideo template and add pieces of footage showing the property's prime features. Next, include important details, such as the carpet area of the property and the number of bedrooms and bathrooms. Finish with a compelling call-to-action that will prompt the prospect to take action.
#3: Don't Make It Only About Your Home Listings
Your posts can quickly become one-dimensional if all that you post are home listings.
Gone are the days when you could simply post your listings and hope for the best. You need to vary your posts so that you don't become predictable.
Different people have different preferences as far as social content goes. Hence, when you post on a variety of topics, you can appeal to and engage a more diverse audience.
The following are some real estate post ideas for social media platforms:
• Retweet interesting local or national-level real estate news
• Share other agents' videos
• Share fun facts about your neighborhood
• Share useful tips for first-time homebuyers
• Share home staging ideas
• Share information-packed real estate infographics
• Share your latest blog post
• Share your latest home sale success
• Share reviews of the latest smart home appliances
• Share home design and remodeling tips
• Share interior design trends
• Share landscaping and gardening ideas
• Spotlight local farmers' markets
• Share a motivational quote
Post content consistently depending on the time you can commit. If you can post once a day, then post once a day. Likewise, if you can post thrice a week, then do that. But if you can post only once a week, there's nothing wrong with that.
In real estate social media marketing, in addition to variety, consistency is the key to success. And sometimes, being consistent in posting content can be the hardest part.
#4: Chat with Your Followers and Respond to Their Comments
While chatting with your followers and responding to their comments can seem like a huge time suck, it can be worth the trouble because you get to engage with your target audience on a personal level.
A poll or quiz such as "Which bank offers the lowest mortgage rate?" or "Which cash buyers offer the highest price for an old house in Kansas?" can drive a high level of audience engagement.
You can use this opportunity to get a better insight into the interests of your audience and serve them better. This will ensure people trust you and are willing to share personal preferences when they do business with you.
Prospects prefer to do business with a knowledgeable, authoritative, and helpful real estate agent. They look at the value your services can offer them. Hence, you need to offer something of value to your target audience first.
Another important point is home buyers—and home sellers—expect quick answers to their questions. And the place they ask their questions has changed.
Compared to the past, real estate agents get fewer calls about a house or neighborhood. People ask their questions online using Facebook's Recommendations Feature.
Be prepared for this outreach and answer their questions. Think of providing the answer to a follower's question as an opportunity to be seen as the local expert.
You can also use these questions to start a dialog with interested followers who might be in the preliminary stages of the home purchasing or selling process.
#5: Share Your Wins and Client Testimonials
Sharing posts of Just Sold Property and client testimonials on social media platforms can be an effective way to highlight your accomplishments.
Since social media is essentially about self-marketing, it's perfectly alright to share these kinds of posts once in a while. They will help build trust with potential clients.
The main advantage of these success posts is people will not question your credibility as a real estate agent. They will also respect your expertise, especially if they are looking to buy or sell a property similar to the one you just sold.
Therefore, sharing your successes can go a long way in highlighting your experience and skills. People will be convinced of your familiarity with the market. Also, they will be confident that you can successfully guide them through the intricate buying or selling process.
Just-sold posts and client testimonials are valuable because they provide social proof. They also give you a track record of success. These posts are indispensable because they enhance your business credentials and put a quality stamp on your services.
You can highlight the positive aspects, such as the selling price of the property being higher than its listed price, the sale of a luxury home, or selling a property within a few days of listing. Take pride in your extraordinary work, and create an eye-catching post about it.
Come up with a catchy caption and use high-quality photos. Add a personal touch by including client testimonials.
In Summary
Social media platforms enable real estate agents to bring their business online. We are confident that the 5 marketing ideas explained here will help you make a considerable impact fast. The goal of real estate social media marketing is to capture the attention of your prospects and create a launch pad for meaningful engagement. The good news is you can achieve this goal by keeping your posts short, sweet, and straightforward.
About Us: The Perfect Spot For You, a leading real estate photography Kansas City company, specializes in delivering top-tier photography services for realtors and homeowners alike. With a team of skilled photographers and a dedication to excellence, we take pride in showcasing properties in their best light, driving higher engagement and interest from potential buyers. Learn more about our services and how we can elevate your real estate marketing efforts at www.theperfectspotforyou.com