In the ever-competitive real estate industry, making a memorable impression is the key to standing out. One effective and versatile tool for achieving this is professional headshots.
Let's delve into how real estate professionals harness the power of headshots to amplify their presence and convey trustworthiness in both digital and physical marketing materials.
A. The Importance of Headshots for Real Estate Professionals
Realtor headshots help real estate agents create a positive first impression and establish their brand. Headshots are more than just nice pictures. In most cases, they help create a good first impression for your clients.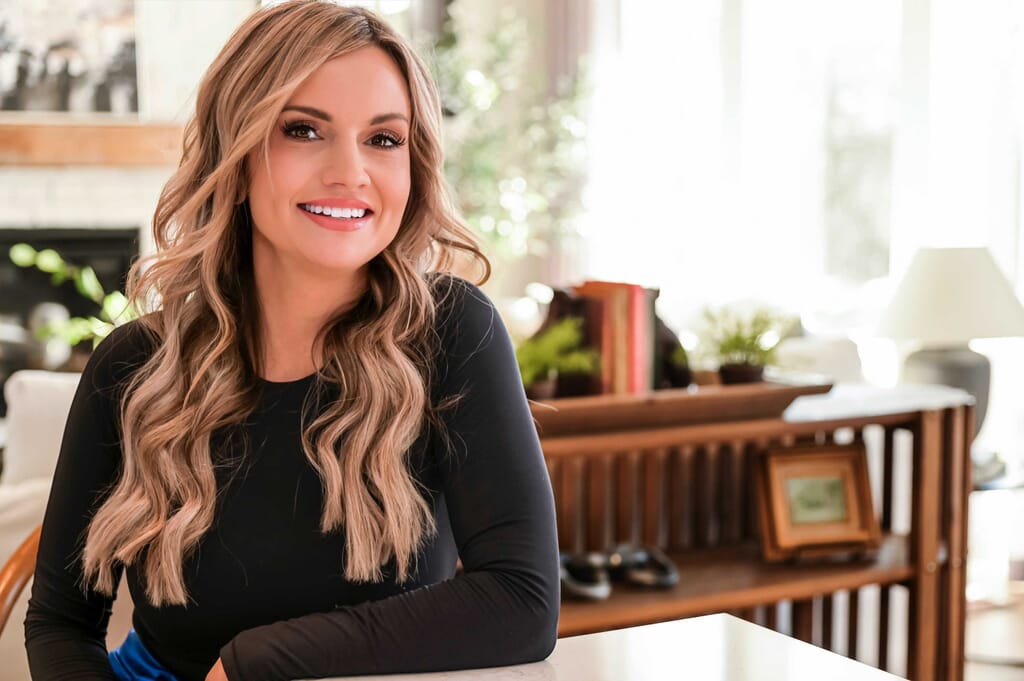 A well-crafted realtor headshot can help establish an agent's credibility and professionalism in the competitive market.
B. The Role of Headshots in Establishing Trust and Connection with Clients
In essence, realtor headshots are professional photographs taken of real estate agents for promotional purposes. These headshots are typically used in business websites, online listings, marketing materials, and social media profiles to help build trust.
The primary goal of realtor headshots is to create a positive and trustworthy image that attracts potential clients.
Toward this end, a professional headshot is a great way to start building relationships with prospective clients, as it conveys credibility, confidence, and competence.
The Significance of Headshots in Real Estate
A. Why Do Headshots Matter in the Real Estate Industry?
In the current predominantly digital universe, first impressions are frequently formed online. In addition to making a great first impression, a compelling headshot will demonstrate your USP (Unique Selling Proposition) and highlight your real estate brand.
A homebuyer or homeowner will typically research half a dozen real estate agents. They may shortlist two or three for a property viewing or consultation. Or, they may choose one if they are time-poor. This is precisely where an exceptional headshot comes into play and can work in your favor.
A compelling headshot draws potential clients and serves as a digital handshake. It emphasizes your approachability and creates a positive connection. As a result, they will not think twice to engage with you.
B. How Do Realtor Headshots Help Build a Professional Image?
A high-quality headshot conveys professionalism and sets you apart in an ultra-competitive niche. Further, it can help build a professional image in the real estate industry, as traditional media marketing still plays a crucial role in it.
A realtor headshot is truly versatile, as you can maximize the value of one photograph by placing it on multiple platforms to reach potential clients. For instance, you can place it on your business website, marketing flyers, and for sale signs.
A professional headshot will also be appropriate—and effective—to use on LinkedIn, Twitter, and next to your listings.
Enhancing Your Online Presence
In the digital age, an appealing online presence is a non-negotiable asset for real estate professionals. Headshots play a pivotal role in boosting visibility and leaving a lasting impact.
1. Web of Online Exposure
Real estate agents strategically deploy headshots across various online platforms. These visuals grace their business websites, email newsletters, property listings, and eye-catching social media posts. In a world where first impressions count, a well-composed headshot can be the difference between a mere click and an enthusiastic inquiry.
Online marketing gives real estate agents the freedom for creativity. They can think out of the box, look at different demographics, and test multiple campaigns. The digital marketing universe has been growing exponentially over the last 10 years. Hence, realtors should hasten to establish an online presence, or they will be left behind.
2. Building Trust, One Pixel at a Time
Compared to offline marketing strategies, building trust via online marketing strategies is difficult and even harder to maintain. While the adage goes, "Don't judge a book by its cover," people are often swayed by first impressions.
A high-quality headshot instills trust and creates a positive perception. Potential clients would doubtless like to connect with an agent who presents themselves professionally. Hence, once you establish a trustworthy reputation online, it's crucial to make a consistent all-out effort to preserve it.
Understanding the Kansas City Real Estate Market
A. An Overview of the Real Estate Market in Kansas City, Kansas
According to Redfin.com, Home prices in Kansas City, KS, were up 2.6 percent in September 2023 compared to last year. The median selling price was $200K. The number of homes sold in September this year was however down—141 compared to 159 in last September.
Despite the short-term drop in the number of homes sold, the real estate market in Kansas City is highly competitive, with homes selling in 24 days. Many homes get multiple offers, and the average home sells for about 1 percent below its list price.
As of Sept 25, 2023, there are 384 realtors in Kansas City.
B. The Competitive Nature of the Industry in the City
Kansas City is a hot market for a combination of reasons—great employment opportunities, short commute times, affordable housing options, and low cost of living.
The low active listings inventory may result in bidding wars for buyers. Kansas City is also the preferred choice for real estate investors, as the sale price is below the national average. However, the median rent is on the rise.
Overall, fast-moving sales and plenty of buyer competition make Kansas City a hot seller's market.
The Elements of a Great Real Estate Headshot
A. The Main Elements of a Professional Real Estate Headshot
Check out realtor headshots on several business websites. To get a clearer understanding of how to proceed, look at the approach of your closest competitors.
1. Wardrobe Choices
While the attire for realtor headshots is usually professional and reflects the agent's style and industry standards, you can choose clothes that make you feel confident and resonate with your target audience.
For example, a combination of a business suit and corporate background will look formal, while a jean jacket will look more laid-back and casual. Hence, it's important that the clothes you choose match the brand image you want to convey.
Formal attire is best if you work predominantly with higher-end clients. And casual attire is preferable if you work primarily with affordable clients.
2. Background Selection
The background you select could easily distract your clients from seeing you. Therefore, pure white is possibly the best headshot background. A white background is bright, open, and natural. It can be powerful in tiny profile photos that appear online, as it allows a potential client to focus on you.
You can also select a background that's relevant to your niche. For instance, if your work is mostly in an urban center, a skillfully blurred home or street corner can be a vital part of your real estate marketing. But if you work with builders and land developers, a blurred expanse of land with bushes or forest would be ideal.
You have hundreds of background options on Canva. Just make sure you don't pick something that's too outlandish or distracting.
3. Lighting Considerations
Proper lighting is a crucial factor in capturing compelling realtor headshots. When done right, lighting can decisively enhance the quality of the headshot.
Many realtors opt for outdoor or indoor settings that reflect their personal style and the desired brand image.
If you are taking a headshot outdoors, make optimal use of natural light. Even when taking one indoors, it's best to open the curtains and blinds and let natural light flood the space.
Shooting in a cramped space or using a built-in flash can sometimes result in harsh shadows. Likewise, shooting in bright sunlight can create stark contrast and deep shadows.
The best way to balance darker interiors and bright windows is to use HDR (High Dynamic Range) mode or experiment with various exposure settings.
B. Tips for Posing and Expressions That Convey Trustworthiness
The right expression and pose can convey competence, confidence, and trustworthiness. The facial expression in a realtor's headshot should be approachable yet confident to resonate with prospective clients.
Can you see the subtle difference in the two headshots of the same person below?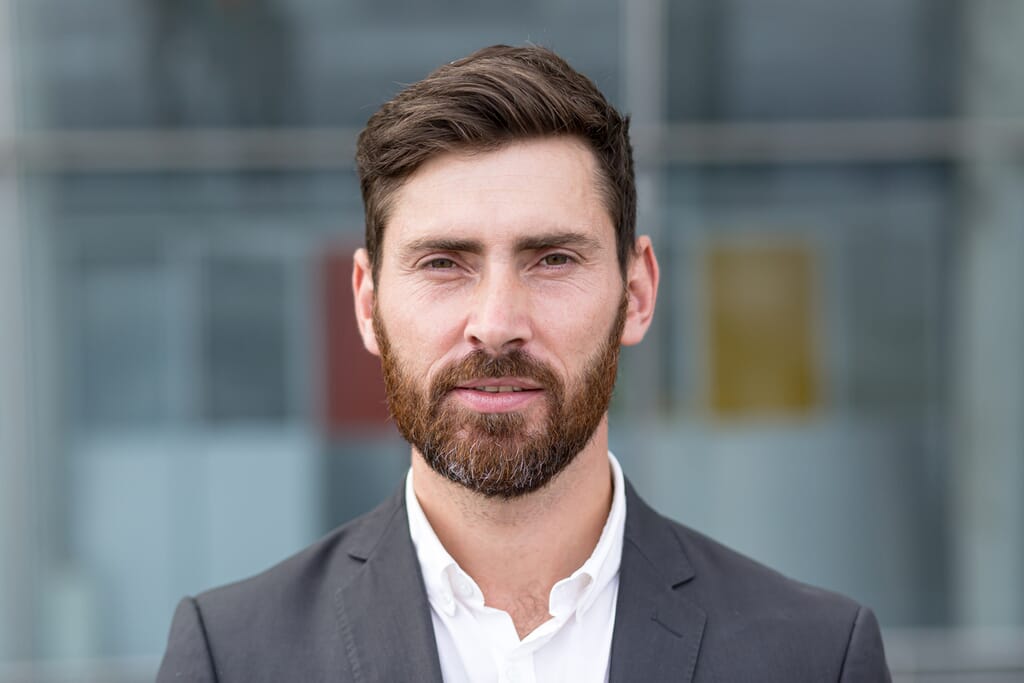 The noticeable difference is the friendly smile in the headshot on the right.
The change in facial expression might seem trivial. But it can make a decisive difference because a smile demonstrates warmth and approachability much more than a serious expression does. It also conveys trustworthiness, which can go a long way in creating a favorable first impression.
This is precisely what a realtor would want to convey to potential clients.
A professional photographer will guide you on how to pose. The basic detail to remember is you shouldn't appear stiff or awkward. You shouldn't slouch, either.
A straight back shows your confidence. And a slight lean toward the camera will make it seem as though you are more approachable.
To maintain consistency across their team members' profiles, some real estate agencies provide guidelines or specific requirements for realtor headshots.
Preparing for a Successful Headshot Session
A. How to Prepare for Your Headshot Session
1. Clothing and Grooming Recommendations
A headshot session is best conducted by a professional photographer specializing in portrait photography. Hence, you must take the time to research and put in extra effort to hire one and prepare for the shooting session.
Business attire is best for a realtor headshot. But avoid clothes of bright, bold colors. The primary objective of a headshot is to direct the viewer's eyes to your eyes and your friendly smile. So, your clothes must not distract the viewer and draw attention away from your face.
The right clothes, attitude, pose, and smile are all important elements of a successful headshot session. Neutrals and calmer tones can work in your favor, as potential clients may find it easier to connect with you.
Consider the colors in which you look best. You are the best person to know these colors. Any color that matches your skin tone and draws attention to your eyes would be perfect.
Solid colors are also alright because they don't detract from your face. Hence, wearing a solid color on top will work best for headshots.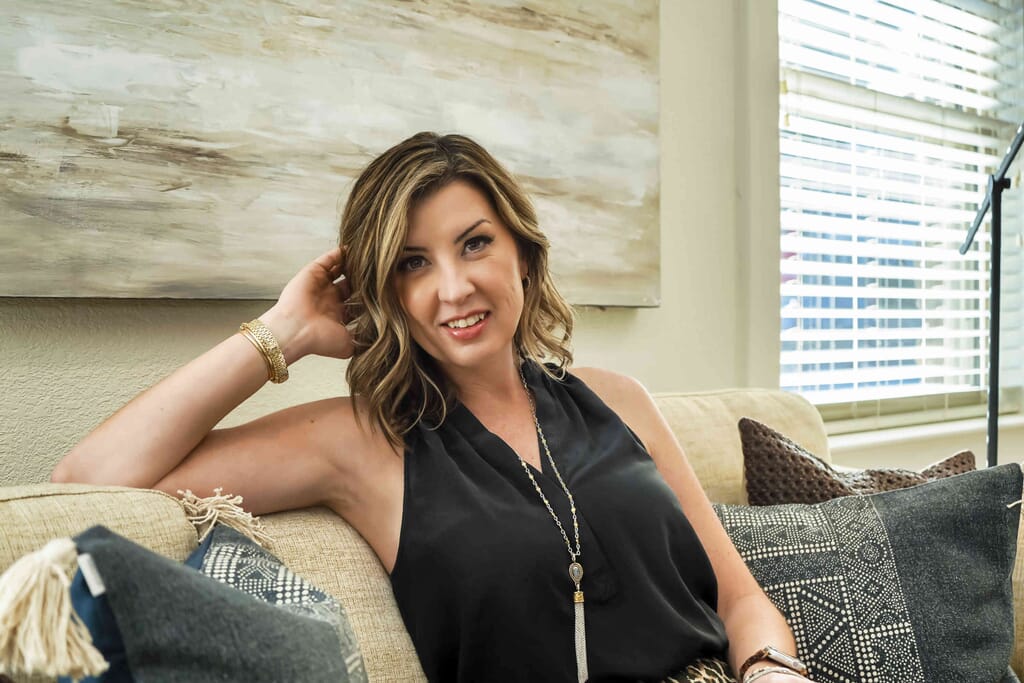 Avoid uncomfortable clothing, as clothes that fit well will make you feel confident. Also, it's best to avoid baggy or loose-fitting clothes, ultra-trendy clothes, heavy makeup, and excessive jewelry.
Practice your facial expressions together with body language in front of a mirror. Take practice selfies and check which ones seem better. A relaxed, natural posture and an authentic smile are the most effective attributes of a successful realtor headshot.
2. Makeup, Hair, and Glasses
Makeup and hair are hugely personal things.
Having your makeup done professionally before the headshot session will give you tons of confidence. But there's nothing wrong with doing your makeup yourself. It's all down to personal preference.
If you're not sure, have a test run with a makeup artist. Ask someone to shoot a few photos on a Smartphone. See if you are satisfied with the end result.
There's no point in investing time and money in a headshot session and ending up with a set of images where you aren't satisfied with the way your makeup looks. So, ensure it will turn out right.
The important point about makeup is it should make you look like you. A headshot session isn't the best time to try a new look. A professional makeup artist will be able to guide you on what works best.
Your hair will typically look more flattering if you wear it down for a headshot session unless you wear it up all the time. While a professional blow dry will make you feel more confident, it's not mandatory.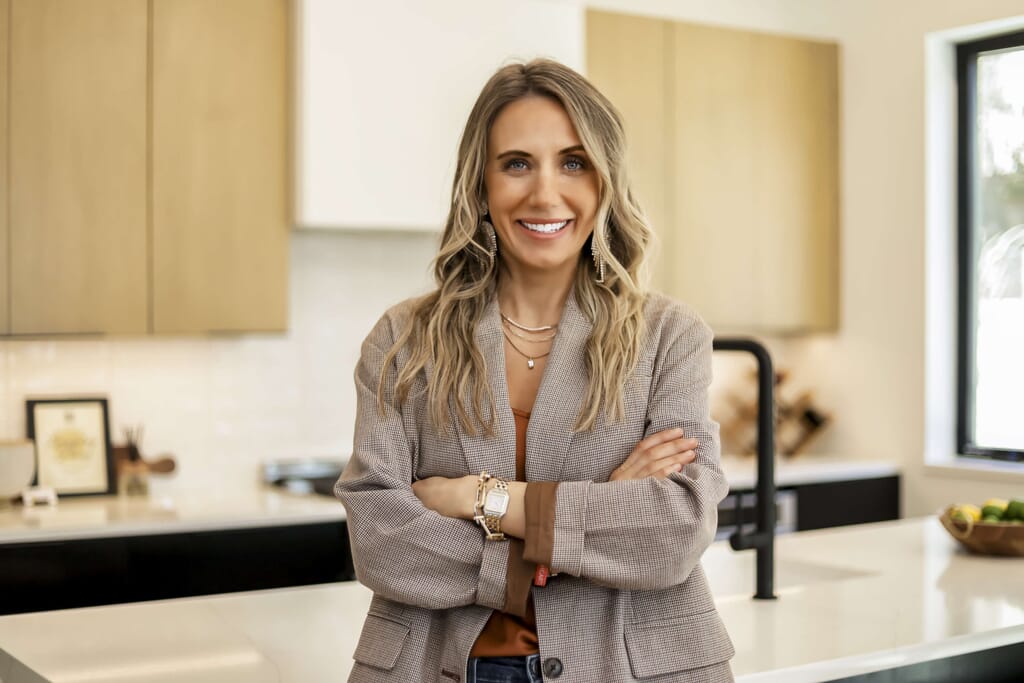 And about glasses, if you wear them all the time, it makes sense to leave them on for your headshot session, as well. But if you wear them occasionally, it's best to not wear them at all during the headshot session.
3. Different Locations and Studio Options in Kansas City
Listed below are some ideal realtor headshot locations:
In your home office
In a home
In a residential neighborhood
Coffee shop
Co-working space
In your office
In the city (street corners, noteworthy landmarks, and business establishments)
Nature background
Beyond the Digital Realm: Tangible Marketing Materials
In real estate, the influence of marketing extends to physical, tangible materials. Offline marketing can build relationships with clients in a way that digital interactions often can't.
Therefore, a real estate agent's arsenal is incomplete without offline promotional resources, and headshots are integral here as well.
A. How Do Real Estate Professionals Use Headshots in Marketing Materials?
A headshot is a simple yet effective marketing tool. It allows real estate professionals to improve their visibility and make an impact across both offline and online channels.
The use of realtor headshots is not limited to the internet on business websites, newsletters, listings, and social media posts. They can also be used in offline marketing materials like signage, business cards, flyers, and brochures.
B. Your Face on Their Lawn
Think of business cards, yard signs, brochures, and flyers as tactile materials that are your offline representatives. Placing your headshot on these materials gives a face to your brand and helps you stay top of mind.
Incorporating your headshot into these materials adds a personal touch. When your face graces a business card, it's not just contact information but a personal connection. Potential clients are more likely to trust and remember you thanks to that friendly face on your marketing collateral.
Kansas City-Specific Considerations
A. Unique Factors Related to the Kansas City Real Estate Market That Impact Headshots
Headshots matter because they represent your business.
The laid-back vibe of Kansas City citizens means they are a friendly lot. So, the human element involved in a headshot could be a big factor that draws in people when they search for real estate agents online.
The single most decisive attribute in a headshot is a broad smile, as it conveys warmth. When people are online, they typically get fewer cues about a person than they would in a real-life interaction.
The smile in your headshot is the biggest cue to a potential client. Your smile creates an oversized impact and can even influence potential clients to do business with you.
B. Local Preferences or Trends
In recent years, the younger population—people in the 22–34 age group—of Kansas City has seen a huge growth, with approximately 35 percent of its population belonging to this age group. Another favorable statistic is almost 60 percent of the residents are unmarried.
Kansas City has a vibrant live music culture. With more than 10 universities, this ever-growing city promises an active academic and social life for young people. All these developments also make Kansas City a hotbed for potential first-time homebuyers.  
Choosing the Right Photographer in Kansas City
A. Tips on How to Select the Best Headshot Photographer in the Area
Your headshot is a crucial aspect of your professional identity because you get only a brief shot at making a lasting first impression with a potential client. A well-captured headshot will instantly inspire confidence in your potential clients. Therefore, you must choose the right headshot photographer so that the impression you make is undeniably great.
Consider hiring only a headshot specialist, as they can bring out the best in you. You can trust them to know the current trends and deliver the best pictures.
Check their portfolio carefully, and make sure they can highlight your personality. Look closely at the lighting and composition in the images. Satisfy yourself with their ability to capture natural expressions.
Since you will need multiple headshots for different platforms, confirm if the photographer is skilled enough to capture different forms of pictures.
B. The Most Important Qualities to Look for in a Photographer
1. Experience
Experience is an important quality, as it allows a professional photographer to quickly adapt to new situations.
An experienced photographer will have creative ideas about locations and using natural light effectively. They can also provide you with makeup advice and wardrobe advice.
2. Style
Style is another important quality to look for in a photographer. It's what makes a photographer's work stand out. A skilled photographer will have a distinctive style. A noteworthy point is that style comes naturally with years of creating.
3. Final Images
The next important quality is whether the photographer gives you the option to select the final images. Check if you can see the images on-site and select the ones you like the most. Or will the photographer make the selection for you?
Conclusion
In the realm of real estate marketing, headshots are an indispensable tool that bridges the gap between the digital and physical worlds. These portraits serve as the face of your brand across a variety of platforms. By delivering a professional image and building trust with potential clients, headshots empower real estate professionals to make a lasting impression in an ultra-competitive market. When done right, these photographs can be a priceless asset for any real estate agent looking to elevate their brand and connect with potential clients effectively.
An exceptional realtor headshot portrays confidence, warmth, and approachability—attributes that prospective clients seek in a real estate agent. It can help create an instant positive connection in the Kansas City real estate industry and encourage prospects to entrust their property dealings to your care. Needless to say, it's mandatory for real estate professionals to invest in high-quality headshots for their success.
Contact The Perfect Spot for You photography services for a professional realtor headshot. Experience the added convenience of professional photography service right at your home, office, or any chosen Kansas City location.